You are here
The Cases That Haunt Us (Mass Market)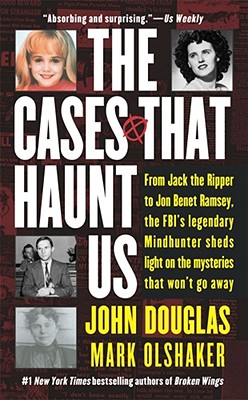 $9.99

Usually Ships in 1-5 Days
Description
---
Violent. Provocative. Shocking.
Call them what you will...but don't call them open and shut.
Did Lizzie Borden murder her own father and stepmother? Was Jack the Ripper actually the Duke of Clarence? Who killed JonBenet Ramsey? America's foremost expert on criminal profiling and twenty-five-year FBI veteran John Douglas, along with author and filmmaker Mark Olshaker, explores those tantalizing questions and more in this mesmerizing work of detection. With uniquely gripping analysis, the authors reexamine and reinterpret the accepted facts, evidence, and victimology of the most notorious murder cases in the history of crime, including the Lindbergh baby kidnapping, the Zodiac Killer, and the Whitechapel murders. Utilizing techniques developed by Douglas himself, they give detailed profiles and reveal chief suspects in pursuit of what really happened in each case. The Cases That Haunt Us not only offers convincing and controversial conclusions, it deconstructs the evidence and widely held beliefs surrounding each case and rebuilds them -- with fascinating, surprising, and haunting results.
About the Author
---
John E. Douglas is a former FBI special agent, the Bureau's criminal profiling pioneer and one of the creators of the Crime Classification Manual. He is currently a consultant on criminal investigative analysis and the author, with Mark Olshaker, of Journey Into Darkness, The Anatomy of Motive, The Cases That Haunt Us, and Law & Disorder, among others.

Mark Olshaker is a novelist, nonfiction author, and Emmy Award-winning filmmaker. He has written and produced numerous documentaries, including the Emmy-nominated PBS NOVA program Mind of a Serial Killer.
Praise For…
---
Us Weekly Absorbing and surprising.

Patricia Cornwell John Douglas is masterful and unrivaled in scientific and gifted probing of the violent mind.