You are here
My Story (Paperback)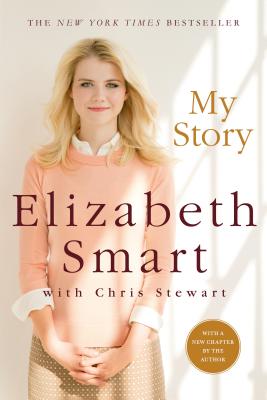 $19.00

Usually Ships in 1-5 Days
Description
---
The harrowing true story of abduction and survival from the courageous young woman who lived it—now the subject of a Lifetime original movie, I Am Elizabeth Smart.

In this memoir, Elizabeth Smart reveals how she survived and the secret to forging a new life in the wake of a brutal crime. On June 5, 2002, fourteen-year-old Elizabeth Smart, the daughter of a close-knit Mormon family, was taken from her home in the middle of the night by religious fanatic Brian David Mitchell and his wife, Wanda Barzee. Elizabeth was kept chained, dressed in disguise, repeatedly raped, and told she and her family would be killed if she tried to escape. After her rescue on March 12, 2003, she rejoined her family and worked to pick up the pieces of her life.

With My Story, Elizabeth tells of the constant fear she endured every hour, her courageous determination to maintain hope, and how she devised a plan to manipulate her captors and convinced them to return to Utah, where she was rescued minutes after arriving. Smart explains how her faith helped her stay sane in the midst of a nightmare and how she found the strength to confront her captors at their trial and see that justice was served.

In the years after her rescue, Smart transformed from victim to advocate, traveling the country and working to educate, inspire and foster change. She has created a foundation to help prevent crimes against children and is a frequent public speaker. She and her husband, Matthew Gilmour, now have two children.
About the Author
---
ELIZABETH SMART is an American activist and president of the Elizabeth Smart Foundation. She first gained widespread attention at age fourteen when she was kidnapped from her home and rescued nine months later. Smart's #1 New York Times bestselling memoir My Story describes her experience, and her follow-up, Where There's Hope, is an inspiring guide to healing after trauma.

Chris Stewart is a former U. S. Air Force pilot assigned to fly the SR-71 Blackbird and B-1 bomber. He is the author of successful and acclaimed thrillers including Shattered Bone, The Kill Box, and The Third Consequence. He lives in Farmington, Utah.
Praise For…
---
"Smart's memoir is as compelling as it is disturbing. Her stoic Mormon faith, moreover, will both inspire and mystify readers." —Boston Globe

"Smart speaks candidly about the shame of rape, confessing her deep fear that her Mormon family would reject her as a result of her experiences. . . . Smart is already making waves in the media." —New York magazine

"My Story chronicles [Elizabeth's] faith, aided by her memories of her family, and what she felt was the spiritual presence of her beloved grandfather, who had passed away just days before she was kidnapped. Realizing that her family would love her, no matter what her captors did to her, 'I had something still to live for.'" —Salt Lake Tribune