You are here
Antimatter Blues: A Mickey7 Novel (Hardcover)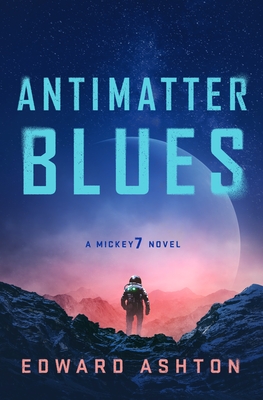 $28.99

Usually Ships in 1-5 Days
Description
---
Edward Ashton's Antimatter Blues is the thrilling follow up to Mickey7 in which an expendable heads out to explore new terrain for human habitation.

Summer has come to Niflheim. The lichens are growing, the six-winged bat-things are chirping, and much to his own surprise, Mickey Barnes is still alive—that last part thanks almost entirely to the fact that Commander Marshall believes that the colony's creeper neighbors are holding an antimatter bomb, and that Mickey is the only one who's keeping them from using it. Mickey's just another colonist now. Instead of cleaning out the reactor core, he spends his time these days cleaning out the rabbit hutches. It's not a bad life.

It's not going to last.

It may be sunny now, but winter is coming. The antimatter that fuels the colony is running low, and Marshall wants his bomb back. If Mickey agrees to retrieve it, he'll be giving up the only thing that's kept his head off of the chopping block. If he refuses, he might doom the entire colony. Meanwhile, the creepers have their own worries, and they're not going to surrender the bomb without getting something in return. Once again, Mickey finds the fate of two species resting in his hands. If something goes wrong this time, though, he won't be coming back.
About the Author
---
Edward Ashton (he/him) is the author of the novels Three Days in April, The End of Ordinary, and Mickey7, as well as of short stories which have appeared in venues ranging from the newsletter of an Italian sausage company to Escape Pod, Analog, and Fireside Fiction. He lives in upstate New York in a cabin in the woods (not that cabin in the woods) with his wife, a variable number of daughters, and an adorably mopey dog named Max. In his free time, he enjoys cancer research, teaching quantum physics to sullen graduate students, and whittling.
Praise For…
---
"Ashton's breezy characters, especially a few alien creepers able to communicate with the humans, delight, and the grungy details of colony life are rendered as realistically as Mickey's hunger pangs. It's good fun with a surprisingly effective closing twist that sci-fi fans will savor." --Publishers Weekly

"Ashton's follow-up to his excellent Mickey7 (2022) is just as much fun as its predecessor." --Booklist

"A nonstop SF adventure from beginning to end." --Library Journal, starred