You are here
Scams and Cons: A True Crime Collection: Manipulative Masterminds, Serial Swindlers, and Crafty Con Artists (Including Anna Sorokin, Elizabeth Holmes, Simon Leveiv, Issei Sagawa, John Edward Robinson, and more) (Paperback)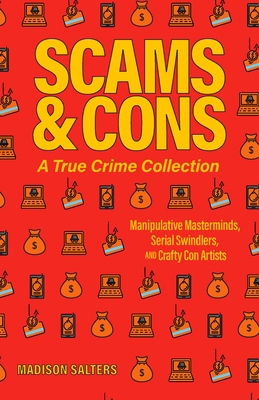 $15.95

Usually Ships in 1-5 Days
Description
---
Take a deep dive into the manipulative, messy world of con artists, embezzlers, fraudsters, swindlers, and grifters in this collection of true crime stories about scams and cons.
From mystifying cons to shocking scams,
Scams and Cons: A True Crime Collection
features case file facts, fascinating details, and true testimonies of the world's most famous scammers and con artists. This book includes the most salacious cases as well as lesser-known ones, with each chapter delving deep into the facts of the case and chronicling first-hand accounts from journalists and police. Plus, a bonus trivia chapter at the end includes a variety of extra-fascinating tidbits. From cults of personality to murderers, cases include:
Simon Leviev
Anna Sorokin
Elizabeth Holmes and Theranos
Robert Hendy-Freegard
Issei Sagawa, the Japanese cannibal who conned his way out of French prison
John Edward Robinson, one of the internet's first serial killers and a dedicated con man
James Hogue, whose multiple false and stolen identities saw him gain a scholarship to Princeton
Alicia Esteve Head, whose accounts of survival and loss in 9/11 were as fictional as the suicide she doctored to escape the repercussions
And more!
A perfect gift for fans of shows, films, and documentaries like
Inventing Anna, Bad Vegan, The Tinder Swindler, The Dropout, Dirty John,
and more.
About the Author
---
Madison Jayne Salters has been a writer, journalist, editor, and translator in news and across literary publications for over a decade. Her storytelling sits firmly at the intersection of ethics, education, and investigation. As a polyglot who's worn many hats (all of them wide-brimmed), she has worked alongside the UN in Istanbul, written a play for audiences in Paris, won entrepreneurship awards in London, translated documentaries from Japanese, and penned comics in the United States. Her heart will always be with her two dogs and her partner, even though all three try to eat her ice cream.