You are here
The CBT Workbook for Mental Health: Evidence-Based Exercises to Transform Negative Thoughts and Manage Your Well-Being (Paperback)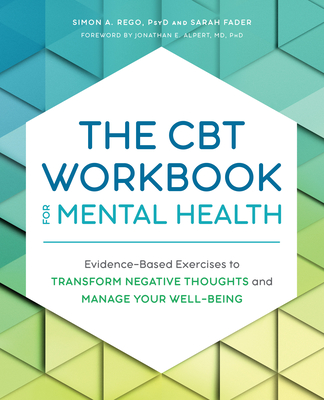 $17.99
Email or call us for pricing: 406-443-0260
Description
---
Live more positively with simple exercises based in cognitive behavioral therapy
Not every mental health struggle involves a life-altering event or an official diagnosis, but that doesn't mean it can't take a toll on your life and happiness.
The CBT Workbook for Mental Health
shows you how to cultivate your sense of calm and confidence through the power of cognitive behavioral therapy. With expert advice, you'll learn how to use CBT to bounce back from tough times—no matter how big or small.
This CBT workbook features:
Specific solutions—Build a range of coping skills with chapters devoted to common issues: relationships and communication, anxiety, anger, stress, guilt, shame, cravings, and self-esteem.
Simple exercises—The prompts and exercises in this CBT workbook only take between 10 and 30 minutes, so you can find time to practice them even on your busiest days.
CBT for everyone—Discover how CBT works and what makes it so popular, with a range of exercises that help improve general emotional wellness.
Learn the skills to maintain your inner peace and emotional well-being every day with
The CBT Workbook for Mental Health
.
About the Author
---
DR. SIMON REGO is board certified in cognitive behavioral psychology and a licensed clinical psychologist with close to 25 years of experience. He is currently Chief Psychologist, Director of Psychology Training, and Director of the CBT Training Program at Montefiore Medical Center. He is also Associate Professor of Psychiatry and Behavioral Sciences at Albert Einstein College of Medicine in New York.

SARAH FADER is the co-founder of Stigma Fighters, a non-profit organization that encourages individuals with mental illness to share their personal stories. She has been featured in The New York Times, The Washington Post, Psychology Today, The Huffington Post, and more.
Praise For…
---
"Whether you can afford a CBT therapist or not, this workbook provides everything a person could need to put dozens of CBT exercises into practical, everyday use. If you're ready for change and willing to put in the work, this awesome book is going to be an invaluable companion in your journey to improving your mental health." —John M. Grohol, Psy.D., founder of Psych Central

"Feelings are not facts; however, feelings tell us how we think about the people, problems, and situations in our lives. If we can step back and scrutinize our thoughts, we can see if we're being objective and accurate. The trouble is, many of us can't stop the mental chatter that leads us in the wrong direction. The CBT Workbook for Mental Health provides simple, accessible, and profoundly transformative exercises that can dramatically empower and shift the way we think and feel about ourselves and our futures. I highly recommend this book!" —Crystal Andrus Morissette, founder of The S.W.A.T. Institute and international bestselling author of The Emotional Edge

"Simon and Sarah have written a very user-friendly self-help (or therapy companion) book for a range of common problems, with topics such as self-esteem; relationships; negative emotions of stress, anxiety, anger, guilt, and shame; and cravings. It is packed full of practice exercises from cognitive and behavioral therapy and mindfulness in each section. The reader is sure to find helpful practices to change their target problems that will suit their needs. Try them all!" —Patricia A. Resick, PhD, ABPP, professor of psychiatry and behavioral sciences

"CBT is the most established approach for treating problems stemming from heightened negative emotions. This book will teach you effective CBT skills to combat patterns of thinking and behaving that contribute to anxiety, stress, anger, shame, and guilt, as well as ways of strengthening self-acceptance and improving relationships. The book is well-written, practical, engaging, and consistent with best practices for facilitating mental health and wellbeing. I highly recommend it for anyone whose negative feelings get in the way of enjoying life." —Martin M. Antony, PhD, professor of psychology and author of the Shyness and Social Anxiety Workbook and The Anti-Anxiety Program

"The CBT Workbook for Mental Health is a terrific book for learning the tools of evidence-based cognitive behavior therapy, the gold standard of psychotherapy. Doing the exercises will improve your life!" —Judith S. Beck, PhD, Beck Institute for Cognitive Behavior Therapy, clinical professor of psychology

"For readers seeking to break down emotional barriers and feel empowered to make meaningful change, The CBT Workbook for Mental Health offers clear, practical, and tested strategies and skills. Rego and Fader guide the reader to identify unhelpful habits and relationships, let go of emotional distress, clarify personal values, and engage in CBT and mindfulness acceptance exercises that will promote motivation and commitment to change. I am delighted with this resource and will be recommending the workbook to my patients and colleagues!" —Anne Marie Albano, PhD, ABPP, professor of medical psychology at Columbia University Irving Medical Center and author of You and Your Anxious Child

"CBT continues to stand the test of time as being one of the most effective and comprehensive ways of working through mental health challenges. Sarah Fader and Simon Rego have written a workbook that includes the most helpful and accessible exercises to help anyone and everyone begin their journey with self-help and increased well-being. This workbook not only empowers the reader to work on these skills but explains why these exercises are healing and life-changing." —Rachel Luria, LCSW


"The partnership between Sarah Fader and Simon Rego has worked well again, with Sarah's input for the exercises coming from her own extensive work with CBT and Dr. Rego's breadth of knowledge about CBT theory and practice adding context and history. In this workbook, they dig into common struggles in mental health and the underlying cognitive distortions connected with them, covering such topics as building tolerance for uncertainty, discerning fact from opinion, and using criticism constructively. Good, solid, common-sense help that you can use today!" —Dr. Margaret Robinson Rutherford, author of Perfectly Hidden Depression: How to Break Free From the Perfectionism That Masks Your Depression…

"The CBT Workbook for Mental Health is very timely and is structured in a way that makes it accessible to readers. It clearly focuses on practical skills that individuals can undertake that will reduce stress and increase well-being. What is particularly helpful is the straightforward and clear layout of the cognitive behavioral exercises. Of note are the large number of exercises that focus on reducing the impact of internal criticism and self-doubt. This book would be an extremely helpful tool for an individual working through the distressing and interfering parts of their lives. I applaud the authors in their clear exposition of the CBT exercises. I enthusiastically endorse this book." —David E. Koch, Ph.D., LCSW-R, clinical professor

"Dr. Rego and Ms. Fader have crafted an excellent, comprehensive, and accessible cognitive behavior therapy workbook for those wanting to be in the driver's seat of their treatment with the scaffolding of validating, empathic experts. Well done!" —Mark W. Wilson, MD, PC