You are here
Dad Law: The Definitive Reference for All Things Dad (Hardcover)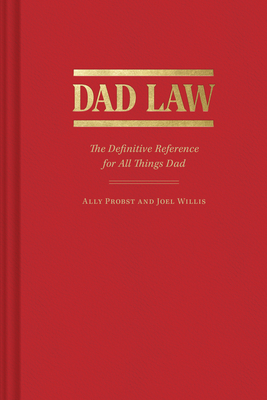 $16.95

Usually Ships in 1-5 Days
Description
---
Finally, the unwritten rules of Dadhood have been written in Dad Law.
Since the dawn of time, all dads have understood that there are a set of rules for fathers—both old and new alike—that guide them to gleefully repeat terrible puns as well as to hone the perfect deadpan joke delivery. This handsome tome collects all of the governing laws of fatherhood, covering a vast array of conceivable situations ranging from fashion to tech to simply being a dad in public. At last, fathers need look no further to confirm that their instincts are 100 percent legally sound, whether it's to vigilantly guard the thermostat settings or to tell unsuspecting children, "Hey, pull my finger."   
It's not a choice. It's a law: Dad Law. 
THE FIRST OF ITS KIND: Never before have all the rules of fatherhood been collected in such a definitive (and laugh-out-loud funny) way!
GOOD FOR ALL DADS: Full of universal dad rules that are inclusive of all kinds of dads and their unique families! Grandfathers and uncles, too!
HANDSOME AND GIFTABLE: Bound in faux leather with gold stamping, reminiscent of a law textbook, 
Dad Law
 is the perfect gift for Father's Day, birthdays, or baby showers. 
Perfect for:
Are you a dad? Do you have a dad? This book is definitely for you!
Every man whose dad jokes, dadwear, and questionable behavior have elicited eye rolls, face palms, and a chorus of protests from their nearest and dearest  
Fans of Sh*t My Dad Says, Father-ish, Tom Segura, Jim Gaffigan, and Dave Barry
Humor enthusiasts and anyone who loves puns and dad joke books
Outstanding gift for any dad, including expecting dads, lawyer dads, and father figures, for Father's Day, birthday, holiday, or welcoming a son, daughter, or grandchild
About the Author
---
Ally Probst and Joel Willis write for The Dad, a social media hub and store for dads of all kinds to connect and bond over the hilarities of fatherhood.