You are here
Give It to Me Hard: Best Taboo Hardcore Erotic Short Sex Stories Collection (Paperback)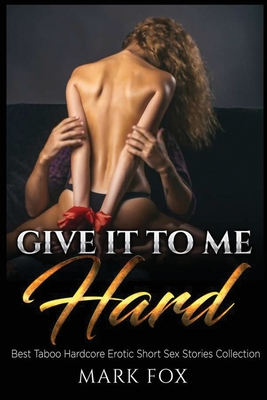 $26.99

Usually Ships in 1-5 Days
Description
---
Do you want to Improve Your Intimate Relationship and Your Sex Life with the Partner? Woul you like to make Spicier your private Relationship with the Partner and Overcome the Shyness and the Taboo of Sex?
SO THIS BOOK IS FOR YOU
I bet the reason you are here is because you believe your sex life could be better but you don't know how. Maybe when you started having sex it used to be hot and passionate but with time, you started feeling sexually detached from your partner. Perhaps you don't feel the thrill for sex like you used to or maybe you are just curious and you want to explore new things.
Statistics show that most of the couples who stay attracted to one another and have a good healthy relationship keep things fun and interesting especially in bed. And what better way to do this than to be adventurous in the bedroom by trying out different sex styles?
The book helps both women and men to understand their sexual needs and gives a lot of suggestions to improve the Sexual Life.
In particular the book focuses on these Topics:
- Improving Sex For Couples - Overcoming Shyness in the Bedroom
- How To Keep The Excitement In Your Sexual Life
- Understanding Your Sexual Needs
- Dirty Talking - A Guide For the Absolute Beginner
- How to Spice Up a Sexual Relationship With Self Masturbation and Other Techniques
- 10 Sensational Ideas That Make Sex Hotter
- And much much more
If you think that what the book offers to you corresponds to what you search to improve your your wellness and your happiness, start now and enjoy the book by clicking on the button BUY NOW
OF COURSE, YOUR RELATHIONSHIP WILL IMPROVE NIGHT BY NIGHT
SCROLL UP AND GRAB YOUR COPY TODAY