You are here
Look What You've Done: The Lies We Believe & the Truth That Sets Us Free (Hardcover)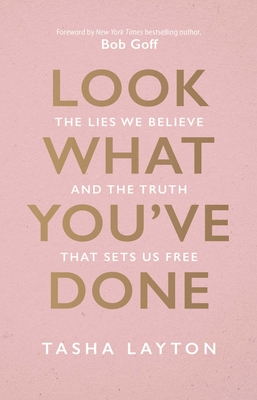 $26.95

Usually Ships in 1-5 Days
Description
---
From Dove Award-nominated artist Tasha Layton, Look What You've Done is a diverse collection of stories and intimate self-reflections to encourage readers to follow where God leads them.
Inspired by her powerful song of the same title, Look What You've Done delves into Tasha's journey of finding freedom in Jesus through life's twists and turns. Tasha takes readers through her early days in small town South Carolina, to her big breakthrough as background singer on stage with Katy Perry, to the mission field in Kenya and beyond. Across many countries and all her days, the truest constant in Tasha's life has been the presence of God in both the highs and the lows.
As her inspirational stories reveal the ways God has guided her journey, Tasha also shares vulnerable reflections on the struggles she's faced in her life of faith and music. Readers will identify with Tasha as she describes the lies that she allowed herself to believe as she struggled with comparison, self-image, and the uncertainty of finding her purpose. Through challenges like these, God continues to bring Tasha wisdom and truth regarding who He is, and who she is meant to be.
Look What You've Done helps readers to:
Discern God's truth from the world's lies
Find freedom, truth, security, and identity in Jesus
Become increasingly bold in prayer
Live as a Christian in an uncertain world
See God's miracles in their life
Begin to embrace seasons of waiting
Look What You've Done: The Lies We Believe & The Truth That Sets Us Free will inspire you to walk in boldness and love, sharing the goodness of God revealed in your life.
About the Author
---
TASHA LAYTON is a contemporary Christian musician who finds her identity and purpose in her personal relationship with Jesus. Layton's musical career took off with her appearance on Season 9 of American Idol and during the four years she spent touring as a back-up vocalist for pop superstar Katy Perry. In 2020, Layton was first named one of Billboard's Top 5 female Christian artists of the year on the heels of her breakthrough single "Into The Sea (It's Gonna Be OK)." Now, her 2021 smash hit "Look What You've Done" is testifying on radio stations across the country to the incredible transformation she's experienced after moving God's truth from her head to her heart. Tasha has experienced the depths of suicidal thoughts, struggling with comparison and self-worth. But her God brought her through and set her course toward a life of joy, freedom, boldness, and eternal perspective. Today, she blesses people everywhere with her breathtaking talents and testimony. From humble beginnings in small-town South Carolina, to far off places on almost every continent, Tasha has experienced God's love every step of the way. In 2022, she launched her new online show, Boundless, with K-LOVE OnDemand. Publishing in 2023, Look What You've Done: The Lies We Believe & The Truth That Sets Us Free is her first book.