You are here
Outsmart Your Brain: Why Learning is Hard and How You Can Make It Easy (Paperback)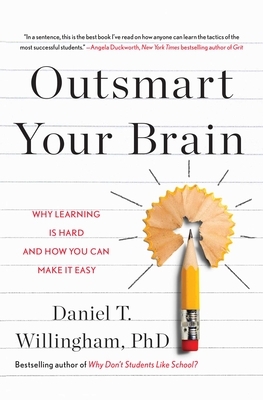 Description
---
In this "ultimate guidebook for doing well in school, and the perfect gift for any student" (Jonathan Haidt, New York Times bestselling author), discover how to study more efficiently and effectively, shrug away exam stress, and most of all, enjoy learning.

When we study, we tend to focus on the tasks we can most easily control—such as highlighting and rereading—but these practices only give the illusion of mastery. As Dan Willingham, professor of psychology and bestselling author, explains, familiarity is not the same as comprehension.

"Highly informative and inspiring" (Kirkus Reviews, starred review), Outsmart Your Brain provides real-world practices and the latest research on how to train your brain for better learning. Each chapter provides clear and specific strategies while also explaining why traditional study processes do not work. "Practical but backed by the latest science, Outsmart Your Brain is an onramp to the virtuous cycle of interest, confidence, and achievement" (Angela Duckworth, New York Times bestselling author).
About the Author
---
Dan Willingham received his PhD from Harvard University in cognitive psychology and is now a professor of psychology at the University of Virginia. He is the author of several books, including Outsmart Your Brain and Raising Kids Who Read. A fellow of the American Psychological Association and the Association for Psychological Science, you can follow him on Twitter @DTWillingham.
Praise For…
---
"Illuminating…Willingham masterfully synthesizes the relevant research for practical application…. [and] lays out his recommendations in admirably clear prose…. the author is both eloquent and encouraging. Highly informative and inspiring: a must-read for students of any age."
—Kirkus Reviews, starred review

"In a sentence, this is the best book I've read on how anyone can learn the tactics of the most successful students. Practical but backed by the latest science, Outsmart Your Brain is an onramp to the virtuous cycle of interest, confidence, and achievement."
—Angela Duckworth, New York Times bestselling author of Grit

"If left to our own devices, humans will usually study poorly. Luckily, Dan Willingham has identified all the ways we can trick our brain into learning (before it tricks us first). A user's guide to the student's brain."
—Amanda Ripley, New York Times bestselling author of The Smartest Kids in the World

"The ultimate guidebook for doing well in school, and the perfect gift for any student heading off to college, and also for the high school student who is beginning to care about grades, or—better yet—actual learning."
—Jonathan Haidt, New York Times bestselling co-author of The Coddling of the American Mind

"Brisk and interesting, this is a wonderful book with a wealth of practical advice for students in "how to" chapters on many topics. I would also recommend the book for teachers and life-long learners — anyone who cares about learning."
—Henry L. Roediger, III, co-author of author of Make It Stick: The Science of Successful Learning

"Willingham does double duty: he places the power to learn back where it should be, in the hands of students while showing teachers how to harness the most effective systems and techniques for boosting learning. An essential tool for the new school year, every bit as important as that calculator, handful of sharpened pencils, and stack of notebooks."
—Jessica Lahey, New York Times bestselling author of The Gift of Failure & The Addiction Inoculation

"Forget everything you thought you knew about being a student and read this utterly unforgettable book—the first, last, best, and only scientific guide to learning in the classroom. Filled with smart, simple, and fact-based advice on everything from listening to lectures to taking exams, Outsmart Your Brain more than earns its A+."
— Daniel Gilbert, New York Times bestselling author of Stumbling on Happiness and host of the PBS television series "This Emotional Life"

"What a godsend for a student! For all our pretensions to be educators, we professors never teach these vital skills. At last, Daniel Willingham, one of the world's experts in the science of learning, explains the keys to mastering the challenges of school. And he does it not just with evidence, but with clarity and charm."
—Steven Pinker, bestselling author of How the Mind Works and Rationality