You are here
An Evening with Debra Magpie Earling
Debra Magpie Earling will be in conversation with Melissa Kwasny to discuss her new work, The Lost Journals of Sacajawea. Join us at the bookstore!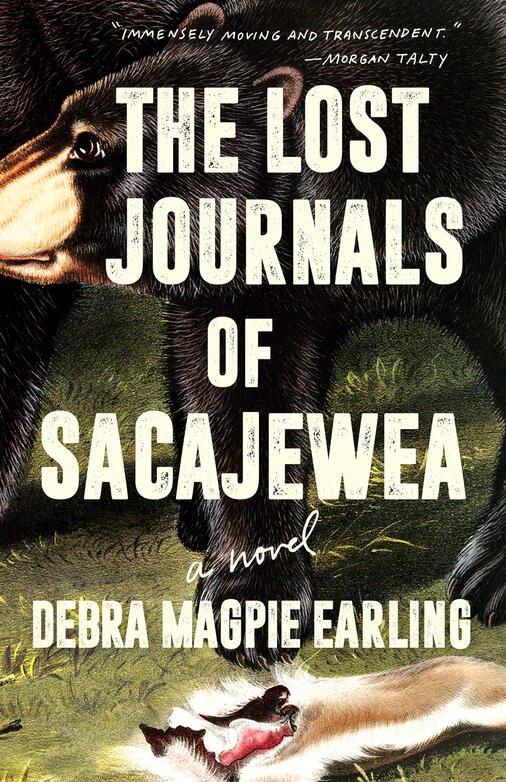 About the author:
Debra Cecille Magpie Earling is a Native American novelist, and short story writer. She is a member of the Bitterroot Salish. She is the author of Perma Red and The Lost Journals of Sacajewea, which was on display at the Missoula Museum of Art in late 2011
About the book:
From the award-winning author of Perma Red comes a devastatingly beautiful novel that challenges prevailing historical narratives of Sacajewea.
"In my seventh winter, when my head only reached my Appe's rib, a White Man came into camp. Bare trees scratched sky. Cold was endless. He moved through trees like strikes of sunlight. My Bia said he came with bad intentions, like a Water Baby's cry."
Among the most memorialized women in American history, Sacajewea served as interpreter and guide for Lewis and Clark's Corps of Discovery. In this visionary novel, acclaimed Indigenous author Debra Magpie Earling brings this mythologized figure vividly to life, casting unsparing light on the men who brutalized her and recentering Sacajewea as the arbiter of her own history.
Raised among the Lemhi Shoshone, in this telling the young Sacajewea is bright and bold, growing strong from the hard work of "learning all ways to survive": gathering berries, water, roots, and wood; butchering buffalo, antelope, and deer; catching salmon and snaring rabbits; weaving baskets and listening to the stories of her elders. When her village is raided and her beloved Appe and Bia are killed, Sacajewea is kidnapped and then gambled away to Charbonneau, a French Canadian trapper.
Heavy with grief, Sacajewea learns how to survive at the edge of a strange new world teeming with fur trappers and traders. When Lewis and Clark's expedition party arrives, Sacajewea knows she must cross a vast and brutal terrain with her newborn son, the white man who owns her, and a company of men who wish to conquer and commodify the world she loves.
Written in lyrical, dreamlike prose, The Lost Journals of Sacajewea is an astonishing work of art and a powerful tale of perseverance—the Indigenous woman's story that hasn't been told.
About Melissa Kwasny:
Melissa Kwasny is the author of six collections of poems, including Pictograph, Reading Novalis in Montana, and The Nine Senses, which contains a set of poems that won the Poetry Society of America's 2008 Cecil Hemly Award. A portion of Pictograph received the Alice Fay Di Castagnola Award, judged by Ed Roberson. Kwasny is also the author of Earth Recitals: Essays on Image and Vision, and has edited multiple anthologies, including Toward the Open Field: Poets on the Art of Poetry 1800–1950 and, with M.L. Smoker, I Go to the Ruined Place: Contemporary Poems in Defense of Global Human Rights. Widely published in journals anthologies, her work has appeared in Ploughshares, Boston Review, and The Arcadia Project: North American Postmodern Pastoral. She lives outside of Jefferson City, Montana, in the Elkhorn Mountains.
Event Date:
Wednesday, June 21, 2023 - 5:30pm
Books:

$26.00

ISBN: 9781571311450
Availability: Usually Ships in 1-5 Days
Published: Milkweed Editions - May 23rd, 2023
---